Original Lishi Tools are the revolutionary on the automotive lock picking industry, expertly designed and manufactured. The Mr. Li original 2-in-1 decoder and pick is a game-changer, makes every vehicle locksmith's life much easier! Now introducing Lishi 32 pieces full set, directly from Mr. Li's factory, 100% genuine guarantee.
HU64(Ignition): for Mercedes, Chrysler, Maybach, Lorinser, Carlson.
HU66(Ignition): for Bugatti, Lamborghini, Porsche, Bentley, Volkswagen, Audi, Skoda, SEAT.
HU83: for Peugeot old 307, new 508.
HU92(Ignition): for BMW, Land Rover, MINI, MorrisGarages GM3, 7, HUF, Rolls Royce.
HU100(Ignition): for Cadillac, Opel, Vydat, New GL8, New Regal, Cruze, Buick.
HU101(Ignition): for Ford, Jaguar, Land Rover, Freelander, Volvo, New Mondeo Win, Max, Sic Bo
HU100R(Ignition): for New BMW, Rolls Royce.
HY22(Ignition): for Hyundai, Kia, Lingxiang, Lion Run, Zhirun, Rena, Elantra, K5, Sorento, Furui.
HON66(Ignition): for Honda, Akula, Idea, GAC Chuanqi, BYD F6, Great Wall.
TOY2(Ignition): for Toyota SUV off-road, new Reiz, BYD inner milling.
TOY48(Ignition): for Lexus, Toyota, New Subaru, Crown.
VA2T(Ignition): for Peugeot, Citroen.
SIP22(Ignition): for Fiat, Alfa Romeo, Lancia, Maserati.
HU162T-9: for New Volkswagen, 2016 New Skoda, 9 Teeth.
HU162T-10: for 2016 new Audi, 2016 new BMW, 10 Teeth.
CHANGAN: for Chang'an inner milling.
HU49(Ignition): for Volkswagen Series, Jetta, Santana, B4, Audi 100, Golf, Old Red Flag.
HU87: for Suzuki series, new Alto, Swift, Tianyu, Jimny, Vitra, etc.
HYN11(Ignition): for Hyundai Series, Elantra, Tucson, Kia Series, Cerato
HYN7R: for Hyundai series, Kia series, Sonata, Moinca.
HY15: for Hyundai Series, Sonata, etc. Kia Series, K2, etc.
HY16: for Hyundai Series, New Elentra/Celesta, Kia Series, Forte.
HY17: for Hyundai Series, Accent, Mistra.
NSN14: for Nissan Series, Teana, TIIDA, Livina, Infiniti, Subaru.
TOY43AT: for Toyota Series, Camry, Reiz, Corolla.
TOY43R: for Subaru XV, Great Wall Cross, Imported Old Toyota, 2009 Haval H6.
MIT11: for Mitsubishi series, Suzuki Big Dipper, Chrysler, Dodge, Shunfeng, Baojun.
MAZ24: for Mazda Series, Haima.
CY24: for Chrysler Series, 300C, Cruiser, Cherokee, Dodge, JEEP Series.
FO38(Ignition): for Ford Series, Edge, F150, Kuga, Lincoln, Mustang.
DWO4R: for Buick Series, Excelle HRV, GL8, etc. Chevrolet Series, Sail, Lova, etc.
MIT8: for Mitsubishi Series.
What's included in the package:
32 x Lizhiqin tools
1 x Lishi Key cutter
FREE Storage case
FREE FedEx delivery
What's Lishi Tools?
Mr. Li Zhiqin, the designer, creator, inventor of Lishi tools. When originated in 2000 , Mr. Li named his tools "Lishi Tools" (中文:李氏工具), with an oval "Lishi" logo. Over the next decade, Lishi won great reputation among locksmiths all over the world.
In 2017, Mr. Li moved the business to an even larger factory with better facilities, and this new factory is dedicated to producing lock picks of the best possible quality. Mr. Li's trademark was changed to Lizhiqin Tools (中文:李志勤工具), with his face and name (中文: 李志勤) as his new logo. But it's still known as "Lishi" all over the world.
Please always look for the 'Mr. Li' face logo for a guaranteed original Mr. Li production. Lishi Tools is the most effective way to unlock and decode vehicle locks in the world today, and trusted by locksmiths everywhere. The tools we supply are from the original manufacturer, ensuring quality and supply is guaranteed. You can verify your tools to ensure that you are getting real ORIGINAL Lishi Tools quality and design.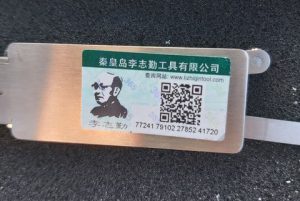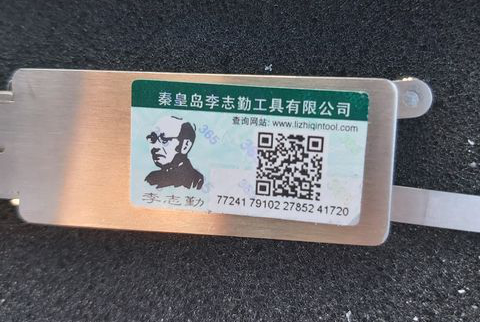 Verify Your Lishi Tools
Since 2021, Mr. Li implemented a verification system. All Lishi 2-in-1 tools and readers come with a verification label attached to the back of each tool. You can scratch off the protective coating at the bottom of the label and scan the QR code with your smart phone camera, open the verification link with your mobile browser to make sure your tools on hand are not illegally copied or distributed.
The QR code is generated with the verification link with the verification number a part of the URL. The verification system is in Chinese, please take a screenshot once the tool verification link is opened, the system will only tell you it's xx times of query after first successful tool verification.