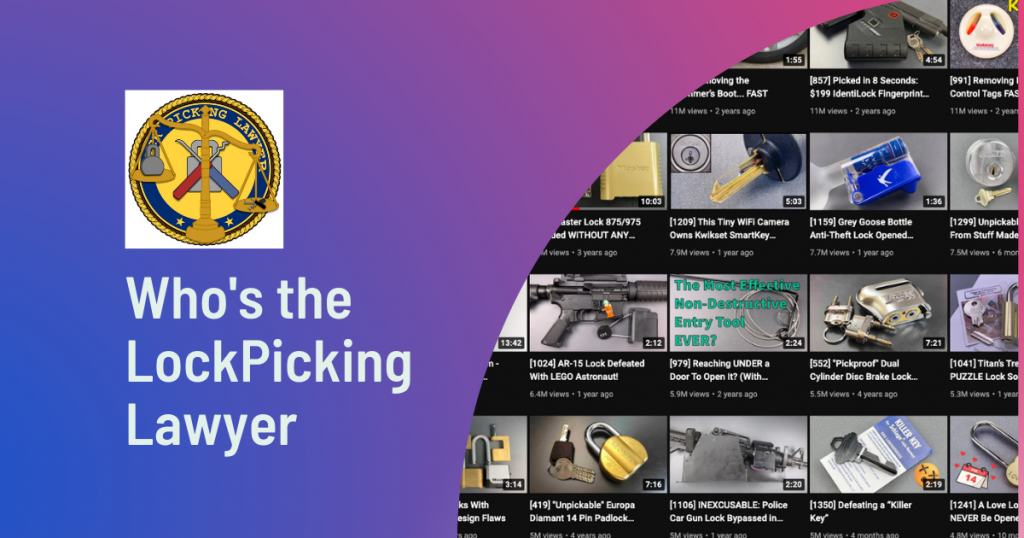 Who's the LockPickingLawyer?
The Lock Picking Lawyer is the most popular lock picker in the world, a YouTuber known for picking various locks on camera on his channel of the same name. As of July 2021, the channel had over 3 million subscribers.
Although the LockPickLawyer has posted more than 1000 videos, he has never revealed his face or complete identity in any of his videos or on the internet. I know that you want to know whom behind the YouTube channel, so here comes this article.
The LockPickingLawyer YouTube Channel
The channel was started in 2015. In 2018, the channel attracted attention after posting a video of a bicycle lock being cut open in two seconds. Other videos include lockpicking a car lock, though it is noted that the methods used are not capable of starting the car.
LockPickingLawyer is best known for his lock pick reviews in which he showcases weaknesses and defects in a variety of security devices, primarily locks, in an attempt to educate consumers so they can make better security decisions.
About the LockPickingLawyer
The LockPickingLawyer is a YouTube creator and works in the security industry. His real name is Harry, and based in Damascus, MD 20872 near the city of Washington. He is married, aged 38 as of 2021.
How did the LockPickingLawyer get started?
Harry has been fascinated with locks since he was a little kid. He even tried lock picking when he was in middle school. But never had enough knowledge for lockpicking to become anything serious until 2015 when he was 32 years old, he came across the YouTube account of BosnianBill, and learned from BosnianBill more seriously. He launched his channel four months after getting into the hobby again.
Is the LockPickingLawyer an actual lawyer?
The LockPickingLawyer was a truly lawyer based in the Washington, D.C., metropolitan area, but has since retired from law to focus on security. He works with lock manufacturers to improve the security of their devices.
LockPickingLawyer Net Worth, Income
Harry has never disclosed his income, a website Youtubers.me says that the overall net worth of the LockPickingLawyer is somewhere around $ 311K – $ 1.87M, with an estimated income $ 11.9K for December 2021. You can check out this page to learn more.
How LockPickingLawyer Say about his Channel?
Harry also sells tools he's using, and on the website he describe his channel as follows:
The LockPickingLawyer is one of the most well-known names in the world of lock picking and covert entry. He is best known for his extremely popular, eponymous YouTube channel. This channel features over 1,000 videos exposing weaknesses and defects found in locking devices so that consumers can make better security decisions. What's less well-known is that he also works with lock manufacturers to improve their products, private companies to improve their security, tool-makers to improve their products, and government agencies. As his name suggests, the Lock Picking Lawyer was a business litigator for nearly 15 years, but recently retired from practicing law to devote all of his time to security work.