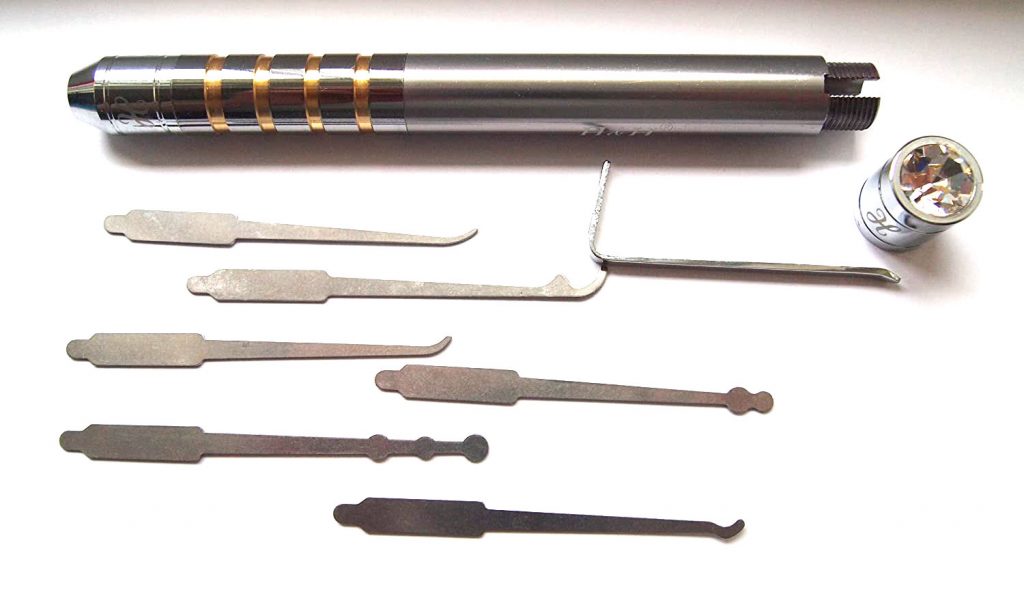 Concealed Pen Style Lock Pick in your Pocket
This pick is probably the best pocket pen lock pick set out there. It comes complete with large selection of stainless picks, and a tension wrench.
Inside what looks like a pen is a full set of lock pick tips that can be quickly attached to the front of what appears to be a standard pen. The pen's pocket clip is designed to serve as a tension wrench. This is fun to have in your back pack or van but is not a good choice as your main pick set. It is also not a good choice as a pen, because it can't write a thing.
Product highlights:
Pen style lock pick set
Contains 6 picks / rakes
Pen clips turns into a tension tool
Carry a complete set of pin tumbler lock picks as conveniently as carrying a ballpoint pen! This professional set of tools includes 6 stainless steel picks, housed inside the stainless steel and aluminum body, with 1 tension tool. Individual picks are clamped securely into the jaws with a knurled locking collar.
Tension tool double as a pen clip to secure the pen lock pick set to your shirt or pants pocket.